Have you been itching to travel this spring? We know the feeling, and sometimes it can be difficult to find destinations that aren't flooded with tourists. That's why we've compiled our favorite out-of-this-world travel destinations that you won't want to miss out on. Scoot over Iceland, you've got competition.  
King's Landing, Seven Kingdoms
King's Landing is the capital of the Seven Kingdoms and home of the Iron Throne. If that isn't enough, the port city is surrounded by clear, blue waters. The warm climate is an ideal escape from bad weather. Although the architecture is incredible, you may get an occasional whiff of human excrement. What can we say? Plumbing isn't a priority for some. While you're there, don't miss the Great Sept of Baelor. And be sure to avoid Flea Bottom. As the name suggests, the biggest slum district is not quite a sightseeing destination.
Hogwarts School of Witchcraft and Wizardry, Hogsmeade
Thankfully, you don't have to be an enrolled student to go on a little school tour at Hogwarts. Made famous by former students Albus Dumbledore, Harry Potter, Ron Weasley, and Hermione Granger, this school feels a lot like a haunted old castle. Be sure to bring the Marauder's Map, you could get lost in the dark corridors. If you're a lover of greenery as much as Hagrid, don't leave before exploring the splendid grounds. You might even catch sight of the giant squid living in Black Lake.  
Atlantis
Do you love water and underground ruins? You'll love the lost city of Atlantis. Although it's a bit hard to access, Atlantis will wow you once you get there. Wander through the city, and you just might catch a glimpse of an ancient statue or two. Once a great city of civilization on land, Atlantis now lies in the depths of the ocean. You'll definitely want to invest in a waterproof camera for this vacation destination! And maybe some scuba diving lessons as well… 
Cair Paravel, Narnia
Great kings and queens have walked through the royal halls of Cair Paravel before you, and you just might get a sense of the legacy they left as you watch the light filter through floor-to-ceiling stained glass windows. If you find yourself with some extra time on your hands, go through the North Gate for a garden walk in the apple orchards. This great castle is where the Pevensie siblings ruled during the Golden Age of Narnia.
Rivendell, Middle Earth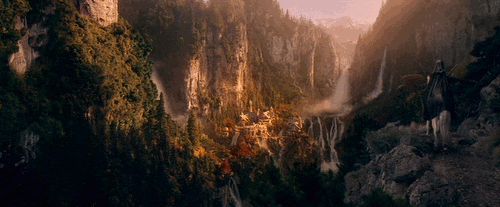 You can find some much-needed tranquility in the hidden valley of Rivendell. Sit by a waterfall and read, or take a walk through the courtyard terraces. Music and poetry abound in this oasis, and the wisdom of the Elves far precedes them. If you appreciate Art Nouveau, you'll love the architecture of Rivendell. Don't be surprised if you feel closer to nature while you're here. The elves created Rivendell as an oasis to stand alongside the natural elements.
We hope you enjoyed our favorite travel destinations to visit on April Fool's Day. While these places may not be real, we're here to offer you a (very real) coupon code for ParkSleepFly.com. Enter APRILFOOLS at checkout to get $3 off your next reservation.
Based out of Los Angeles, Iona Brannon is the Content and Affiliate Marketing Strategist for ParkSleepFly.com. Her hobbies include looking at airplane tickets, sitting in LA traffic, and occasionally yelling at other drivers.