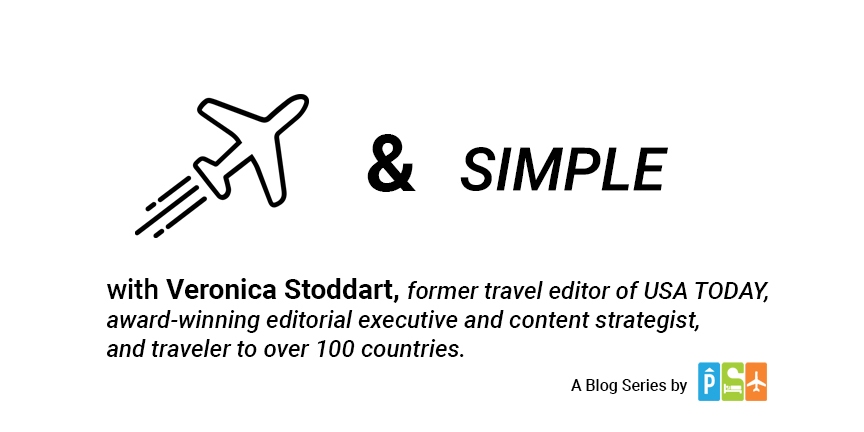 Veronica Stoddart has been in the travel game for quite some time. Formerly the travel editor-in-chief of USA Today, Stoddart has gone through a multitude of travel experiences in more than 100 countries. Not only has she been able to travel on her own, but she has also been witness to the travel stories of many others.
Stoddart's passion for travel is fueled by her belief that travel is a force for good in the world. With travel comes the international understanding that's so important as our world gets smaller.
---
Maximizing On The Travel Experience
You say that you believe travel is a force of good for the world. Could you explain that?
I feel very strongly about this. Travel, especially when you're traveling abroad, is really one of the most impactful ways for people to experience another culture and way of life. I would say that's even true domestically because if you look around our country, different regions have their own culture and you actually learn so much when you visit a place you're unfamiliar with. There's really no better way to encourage international understanding than to travel.
There's a travel quote that travel guru Rick Steves says, "The tiniest exposure to the outside world will change your entire life." I agree with that. It's really powerful what you can learn from travel. So that's my mission. You learn that people everywhere are the same at the core of who they are. They love their families, they want the best for their family, they want a good life.
---
How does one find the best travel experience?
Leave your preconceptions at home and really open yourself up to new experiences. Engage with the local people. Americans can be very insular in the way that they approach the world, stay at predictable hotels and eat at predictable restaurants. The more you step out of your comfort zone, the more you're going to learn about the place that you're visiting. Do something you maybe wouldn't do at home to break out of your routine. You'll find that people everywhere are genuinely helpful and want you to feel at home in their city or country, and they typically like to extend that welcome. If you go with that kind of attitude, you'll find that it'll be returned.
---
What would you tell someone who feels restricted by finances or work?
Everybody has a different situation, but in general, Americans don't take all their vacation time. 52% of Americans leave vacation days on the table. I've never been able to understand this, I've always taken every last bit of my vacation. It's very precious to me. Americans only typically only take 16 days a year but other countries take up to 41 days off.
We're starting with a huge deficit, and even with the deficit, American workers don't take all their time off because they're worried about their job.
The result of that is you get job burnout, decreased efficiency, general unhappiness and there are actually physical ramifications of not taking time off: increased blood pressure, which can lead to other diseases.

-Veronica Stoddart
I was looking this up yesterday, men between 35-57 who are at risk of heart disease and didn't take more than a week of vacation were about 30% more likely to die of heart disease. Now that's a pretty powerful argument for taking your time off. I would say, you should do it! You'll come back being more productive, you'll be more relaxed, more efficient and just renewed and refreshed.
Money is more of a challenge, some people just can't afford it. There are ways to take more affordable vacations, you can think about camping, visiting relatives, those are not necessarily high-cost vacations. National parks are a great way to go, you can camp out there. They're beautiful and fabulous. And there are always options like house swapping or staying in a hostel. Hostels aren't just for students anymore, hostels have really grown up. And Airbnb is another affordable way to go. If you really wanted to, there are really affordable ways to do it.
Someone who lives in New England and travels to New Orleans, that's a totally different culture there. It's different in almost every way. The food is different, the music is different. The lifestyle is different. Our country is so huge and so varied, I really do think you can learn a lot just within the confines of the U.S. And road trips are a great way to do that, road trips don't have to be expensive.
---
What is the biggest travel misconception you run into?
This is a tough one for me. I would say generally, it's having unrealistic expectations. People can put too much stress on what vacation will do for them. Travel is what you make of it, and while it can be renewing and refreshing and it can be transformational, it really depends on the attitude you bring to it. I always like to say, "Prepare, but be open to serendipity." If you have a short amount of time, you can't just stumble around, but I think you should always be open to that serendipity and that surprise.
---
---
Who do you look up to in the travel industry?
I consider this more of a brand than an individual. Disney. I was just on a Disney cruise with some of my family members, and it just struck me when I left the cruise that Disney really does everything right. It's the little details they pay attention to that really sets them apart. Everything is storytelling, and storytelling is a very powerful vehicle for connecting to the people. That goes back to Walt Disney himself, he said everything we do has to be around the story. The whole ship! All the restaurants were themed and told a story. All of it came together to tell a special story. It's a cliche, but there's a reason they're successful. The parks and the cruise lines. All of it. There's a reason for it, they do everything. They do it well with a lot of attention to detail.
---
Food: The Most Important Part
Tell us a little more about the connection between food and culture.
I think food is one of the greatest entrées there is to a culture. I mean it tells you so much about the place in terms of the ingredients they use to the produce they have. Is it a fish-based culture or a meat-based culture? And then of course how food is prepared, and how it's served. All of it is a deep entrée into the culture.
I love taking cooking classes. I started doing this years ago when I took a week-long cooking course in Tuscany. It pretty much changed my life, it changed my cooking style. It changed my approach to food. It was an amazing experience, absolutely fabulous. Ever since, even if it's a half-day or a full-day cooking class. I did it in Cambodia, I was recently in Peru, and I learned Bedouin cooking in Jordan. It's really a fun way to immerse yourself in the local culture. And it's fun, and at the end of it, you get to eat a wonderful meal.
---
How did traveling change the way you cook?
I always bring back recipes and those are fun to do at home and try out exotic recipes and show off a bit. In Italy, it changed a lot. I instantly switched to all olive oil. I only cook with olive oil now. We did a lot of things from scratch, which I don't necessarily do at home, like making pasta from scratch. But it was amazing to do that and to see the difference of homemade ravioli with homemade ricotta. It's like nothing over here, you know!
---
What is a food that you didn't think you would like but you did?
There were two items I tried I definitely didn't like. One was bird's nest in China. I had it at a Michelin star's restaurant. It's sort of a gelatinous goopy thing, and it has no flavor. It's highly, highly prized in China. It's very expensive, but I didn't quite get the point of that. The other one was durian. The big giant fruit. I broke out in a rash after eating it, so it definitely did not agree with me. Those are really the only two that I was like, "Nope, this is not for me."
A few things I've turned down along the way: fried worms. I've eaten fried ants. I've eaten fried birds. I'd say I'm a pretty experimental eater. Some things you might not likely particularly, you wouldn't go out of your way to find them again. They're just okay.
Along those lines, I do a lot of food writing among other things and that's something that's dear to my heart. I also typically try to take a cooking class wherever I go. I've taken cooking classes all over the world.
What's a food you want to try?
I couldn't think of any food that I would want to try that I haven't already. However, I have three restaurants that I would love to try someday. I mean the top of the list is Noma in Copenhagen, often considered the #1 restaurant in the world, I would love to try that. For sushi in Tokyo, I would like to go to Sushi Saito. And then in Lima Peru, I'd love to eat in Central. Those are each in their own way top of the line. Sushi Saito is the best for sushi, Central is considered the best restaurant in South America, and Noma is considered the best restaurant in the world. That would be awesome! It's nice to wish…
---
The Inside Scoop on Destinations
Top three destinations you want to travel to?
At the top of the list is Tibet. In my ideal scenario, I'd like to take the train from Beijing to Tibet. They opened up this train route about 10-15 years ago, and it's supposed to be an amazing way to get there. Tibet has always fascinated me and I would love to go and see it. The next would be Australia. I've never been and I would love to go. The third is Scotland. For a variety of reasons I've never been there either, and it's on the top of my list. It's always good to have a wishlist right?
---
What is the most underrated place that you've been?
I would say Poland. I didn't have many expectations, I didn't know much about it, and I was so surprised. Especial and specifically Krakow. It's an absolutely beautiful university town. It was the old intellectual center of that country; it was left intact in WW2. All the beautiful medieval buildings are still standing, and they have a fabulous jazz scene. There are all these underground jazz clubs, and when I say underground I literally mean underground! There are lots of historic buildings, there's a beautiful castle. There's an old Jewish quarter. And they have one of the largest medieval town squares in Europe. I mean it was really a surprise for me. The people also surprised me. They were very engaging, very sophisticated, hardworking, industrious and prosperous. All of that was a big surprise for me.
---
What's one place you think people should go to in 2019?
My answer was going to be Peru because there's so much going for it and it's so affordable. Some places are more affordable at different times than others, and this is a great affordable destination right now with so much to offer. It has amazing scenery with so much variety. You've got deserts and jungles and mountains and coast. It has a thriving culture both ancient and modern. You've got architectural ruins and some of the best food anywhere! Peruvian food is really coming to its own. As you probably know, it's one of the hot cuisines right now. I was there a year ago and the food was just amazing. I had Amazonian that blew me away, Andean food that was fascinating and delicious. I think it's an amazing destination.

As far as destinations that are changing, Cuba would have to be there. I've been there a number of times, not very recently though. The last time I was there was '99, even between 1995 and 1999 I saw a lot of change. I can't imagine what's happened in the last ten years. It's really a destination that's in transition. That'll just continue to happen as more tourism comes. As a country changes, politically it changes too. They really have loosened up a lot about private ownership, there are lots of private places you can stay and private restaurants. All of that was not there when I was there in the nineties.
---
Fun Tidbits
What are your carry-on must-haves?
I have a list of five.
Snacks. I never travel without food. You'll see food is a theme for me. Either for emergencies, tight connections or delays, I have a kind bar or a granola bar, some sort of granola mix, dried fruits, dried nuts or something like that.
Pashmina. It's perfect to use as a blanket, to use as a pillow, to roll up and use as a backrest on the plane. You can throw it over something, to use it to dress up an outfit, for whatever. It's an all-purpose thing, and it's the best travel item I can think of.
Entertainment. I always have an electronic device for entertainment
Headphones. For flights, headphones or something to drown out the sound or to listen to in-flight entertainment.
Reading material. And then I'm old school, I always bring some sort of printed reading material just as a backup for electronics. I always have a magazine or two with me. That's what I always take!
---
What is your biggest airplane pet peeve?
This won't come as any surprise to you I'm sure, but it's tight seats with no space to open a laptop. I'm always working, doing something on it. And as you know, you can't even open them anymore. There's just not enough space. There's pretty much nothing you can do about that, and I think that's super annoying.
---
What is the sweetest thing you saw at the airport?
You're going to laugh at this answer. See's candy! I'm a huge fan of See's Candy. As you know it's a west-coast thing, and when I'm at the L.A. airport, it's what I make a beeline for. I love anything with caramel and nuts, and they have a lot of those in the candy boxes. I think See's is just amazingly delicious.
---
Want more travel insight? You can keep up with Veronica Stoddart on Twitter, LinkedIn, Instagram or her site VeronicaStoddart.com. Follow along with ParkSleepFly on Facebook, Twitter, and Instagram.
*Interview edited for grammar, length, and clarity.